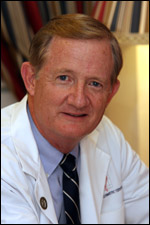 DOUGLAS D. DEDO, MD
COSMETIC SURGEON
If you are considering cosmetic surgery, it is important to choose a surgeon who has the experience, technical skill, artistry and compassion to deliver the results you desire in a setting that is focused 100% on you! Dr. Dedo and his professional and caring staff are ready to nurture and guide you to your desired results. Liposuction, Face Lift, Neck Lift and Rhinoplasty are just a few of the cosmetic surgical procedures that Dr. Dedo is recognized for delivering long lasting results that look natural. 
Dr. Dedo earned his undergraduate degree at the University of Kansas and a Doctorate of Medicine at Northwestern University School of Medicine Chicago, Illinois. Dr. Dedo completed his residency in otolaryngology head and neck surgery (ENT) at Washington University School of Medicine, Barnes Hospital, St. Louis, Missouri. As part of his residency, he received training in facial plastic and cosmetic surgery. He next served his country and refined his skills in the US Air Force.
Today he remains a pioneer in the field of Liposuction surgery and facial plastic surgery. Utilizing his knowledge and experience with Liposuction, Dr. Dedo developed and perfected a safe and effective alternative to Gastric By-Pass Surgery, called Sequential Liposuction and Body Sculpting or S.L.A.B.S.
Dr. Dedo is a member of the American Academy of Facial Plastic and Reconstructive Surgery, the American Academy of Cosmetic Surgery and the American Academy of Otolaryngology Head and Neck Surgery. Although he performs a variety of procedures, Dr. Dedo is known for creating natural results that last for many years be it a Facelift, nose job, or other cosmetic procedures.
*American Board of Cosmetic Surgery not recognized by the State of Florida